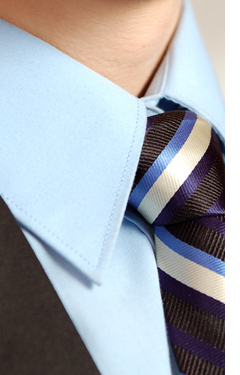 Here are some helpful instructions provided on how to match a suit, shirt, and tie. Most men make the mistake of finding a shirt and tie combination and then struggling to match this with the suit. The easiest way is to pick the suit first and then match your shirt and tie to the suit.
Green and Jack's uses the three step process below to advice its bespoke shirt customers on coordinating suit, shirt and tie.
Step 1 – The Suit
Any man's basic wardrobe should have a standard black, charcoal grey and navy blue suit. You could venture further and invest in a dark brown suit as well.
Step 2 – The Shirt
The easiest colour choice for a men's shirt is white shirt especially if you want to achieve the ultimate conservative and professional look. This is not a hard and fast rule, but it is easy for coordinating.
The other classic colours for men's shirts are light blue or light grey colour. If you have a brown suit a tan or yellow shirt would be the most obvious choice.
Step 3 – The Tie
It is acceptable if the shirt is a solid colour, that the tie can have a pattern and vice versa. Striped or check shirts should be matched in such a way that the dominant colour in the shirt matches the suit and the tie.
Let's say that you have chosen a Black suit and a Blue shirt. A great idea is to choose a black tie with dark blue and bege stripe. You will be very satisfied with the look you achieve and it will look extremely dapper as well.
About Green and Jack's Bespoke Shirt Maker
Green and Jack's is a bespoke shirt maker based in London. Green and Jack's combines traditional hand tailoring techniques with three step easy ordering process to create high quality bespoke shirts. Perfect fit guarantee ensures free alterations.
Visit the Green and Jack's online store to purchase bespoke shirts from £79 plus free shipping within the UK or £5 delivery to the USA and Western Europe.
You can create your own look at www.greenandjacks.com
About Green and Jack's Bespoke Shirt Maker