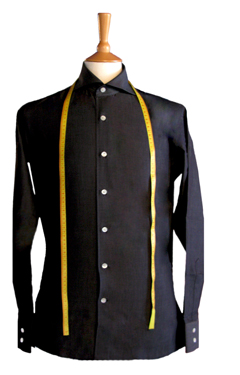 In order to understand the difference between "made-to-measure" and "bespoke" garments, you have to define the two terms and then compare their features and benefits. Despite the fact that ready-to-wear shirt has taken such a firm grip on the global economy, it is the least feasible option when it comes to purchasing properly fitting shirts. So what is the difference between made-to-measure shirts and bespoke men's shirt?
Made-to-measure shirt is created from a base pattern which has been standardized. Ready-to-wear garments are manufactured according to a set of standardized sizes that define the average consumer whereas made-to-measure garments are constructed with exclusivity and personalization in mind.
Bespoke shirts are entirely unique from start to finish. From the cutting of the initial base pattern to donning the shirt, the consumer has total control every step of the way. This personalization is the key facet when differentiating between made-to-measure and bespoke shirts.
Made-to-Measure versus Bespoke
Bespoke tailored shirts are distinguished from made-to-measure shirt in that the former is not created from a pre-existing pattern or template, making it completely unique. Additionally, the consumer always has the complete control over the following aspects of the bespoke process:
• Features and fit
• Kinds of fabric used
• Manufacturing of the garment
Where made-to-measure shirts are more expensive than ready-to-wear items, they are less expensive than bespoke tailored men's shirt. However, they don't measure up to the quality. It is common knowledge that the prime benefit of bespoke tailoring is three fold because the garment is exclusively fitted to your physique, i.e. personalised, but also because higher quality fabrics and manufacturing standards are employed.
The main benefit of bespoke tailoring, over and above the personalization factor, is the involvement of most bespoke tailors with the Savile Row Bespoke Association. This is the organization that has established manufacturing standards which mandate that specific requirements must be met in order to be classified as a bespoke garment. There are three key manufacturing standards involved:
• every garment should be almost entirely hand made, including the cutting of individual patterns or templates
• garment manufacturing houses are required to participate in a training program approved, prescribed, and sanctioned by the Savile Row Bespoke Association
• records that are relative to all future orders, a larger fabric assortment, and even professional advice need to be part of the customer service ethic
The bottom line is that bespoke tailored shirt speaks volumes about a man's lifestyle because the way in which it is manufactured is exclusive and unique. When take all the different options into consideration, it is extremely unlikely that you will ever encounter another individual wearing an identical shirt.
About Green and Jack's Bespoke Shirt Maker
Green and Jack's is a bespoke shirt maker based in London. Green and Jack's combines traditional hand tailoring techniques with three step easy ordering process to create high quality bespoke shirts. Perfect fit guarantee ensures free alterations.
Visit the Green and Jack's online store to purchase bespoke shirts from £79 plus free shipping within the UK or £5 delivery to the USA and Western Europe.
You can create your own look at www.greenandjacks.com
About Green and Jack's Bespoke Shirt Maker